Signal 99 - Horseshoe Island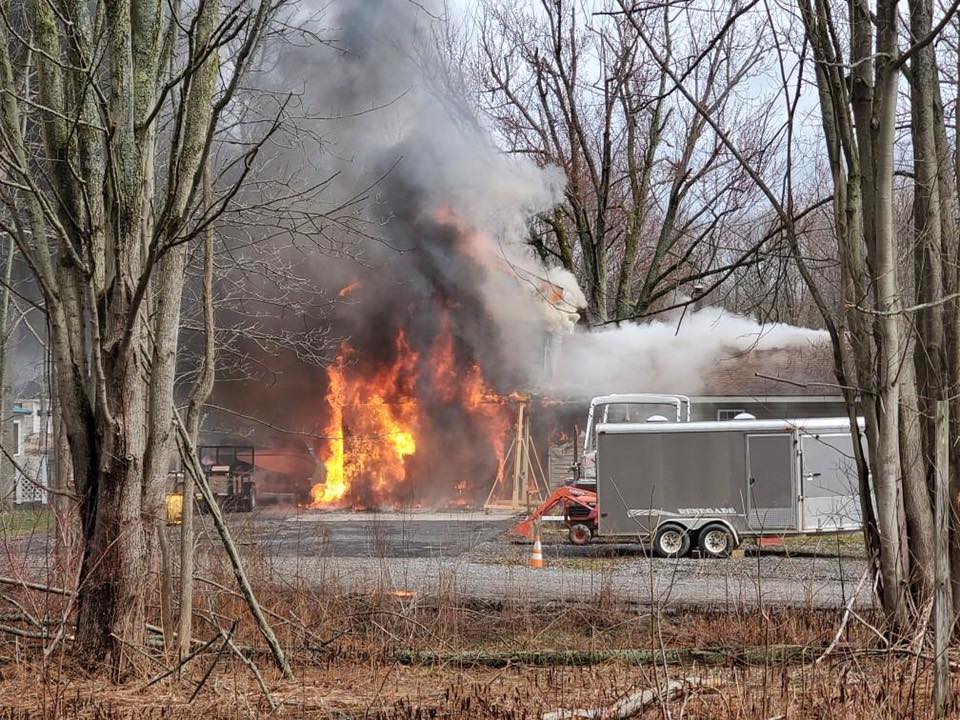 Tuesday, March 31, 2020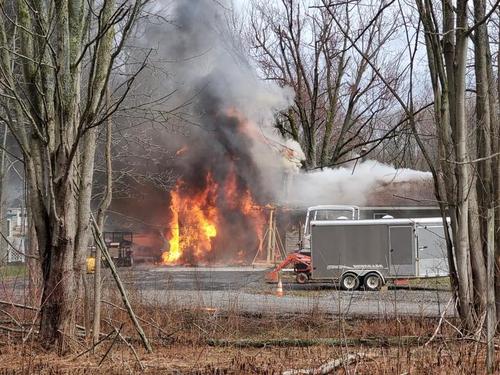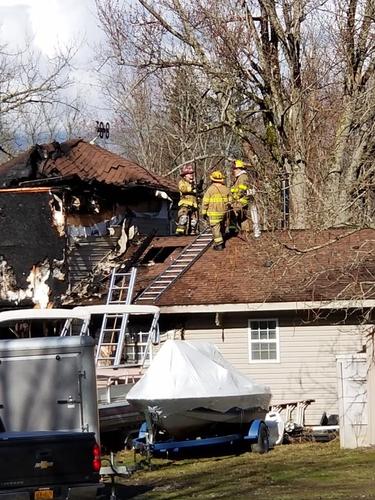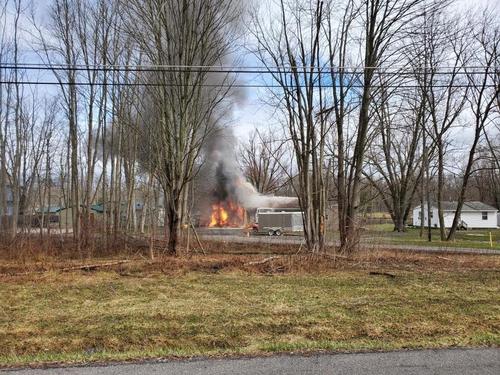 03-31-2020 // Signal 99 Horseshoe Island
At 13:24 hours members were activated for a reported structure fire on Horseshoe Island Road.
The Onondaga County Sheriff's Office was first on scene reporting an attached garage and the upstairs of the residence above it fully engulfed in flames. BC1 [Battalion Chief Balcer] arrived establishing command and declaring a Signal 99 while Car 4 [Deputy Chief Dembowski] took the interior.
Engine 11's [Capt. Eldred] crew arrived, secured a hydrant, stretched a line to the structure and began an aggressive attack on the fire while making their way to the garage. Once in the garage, E11's crew was met with a full fuel tank on the vehicle inside the garage still burning and feeding the fire. Truck 2 [Lt. MacPherson] arrived and split their crew, sending half to throw ladders to the structure and half to set up a ground monitor to attack the fire from the exterior while crews worked.
Engine 41 [Past Capt. McGowan] stretched a second line to the "C" side of the structure to assist with extinguishing the fire in the garage from the exterior. Truck 2's crew began a search of the structure and extinguished fire that had spread to the second floor. Engine 21 [FF Zinsmeister] and Engine 31 [Past Capt. Wilkinson] stretched a third hand line to the structure to extinguish what had spread to the attic.
Crews from Belgium Cold Springs, Clay, Baldwinsville and Phoenix provided assistance with manpower and overhaul on scene while Solvay, North Syracuse, Liverpool & Cicero stood by on our floor.
Later this evening, crews were activated once again for a garage fire on Harvest Lane in the Station 3 response area. Car 4 [DC Dembowski] arrived taking command reporting smoke from the garage. Engine 31 & Truck 2 arrived on scene and had the fire contained and extinguished within minutes of dispatch. Crews were back in service within the hour.
Moyers Corners would like to take this opportunity to thank not only our members, but members of our mutual aid companies as well, for continuing to show up for emergencies during this uncertain time in the community. With regulations changing by the minute, members of volunteer fire agencies all over have had to adapt and overcome while still providing service to the community and assistance to police and ambulance agencies as requested.
To ALL essential employees, thank YOU for continuing to show up each and every day to keep the world running as "normal" as possible. To those of you staying home, thank you for helping to #flattenthecurve. These are certainly uncharted waters for many of us, and while we are just as eager as you to return to our normal routines, the health and safety of the public is more important now than it has ever been. Continue to practice social distancing, wash your hands, and above all else, strive to stay SAFE & HEALTHY!
« Return to news listing